In 1995 Bill Gates predicted that a recent innovation would "set the course of our industry for a long time to come." Having just returned from a tech conference in May of that year, Gates became convinced that this new innovation was about to change everything.
That thing was the internet.
Despite the fact that the world wide web was an empty shell at the time, Gates saw the potential and accurately predicted the massive impact of this new technology. Only a few months after the conference, Microsoft released the first version of Internet Explorer.
I tell this story because it echoes where blockchain stands today. This hugely promising innovation is still taking baby steps. Nevertheless, it's potential is clear to many. The impact cryptocurrency can have on the emerging markets, for example, is obvious.
Encouragingly, entrepreneurs, startups and governments are desperate not to miss the boat. "This new technology" they argue, "will set the course of our industry for a long time to come."
Particularly welcome in this regard, is the interest shown by governments throughout the world. Every day, reports of another government piloting a blockchain project hit the news. Some are further along than others, but a number of highly promising ventures exist.
Below, I have briefly outlined the five most promising projects. Let's get started!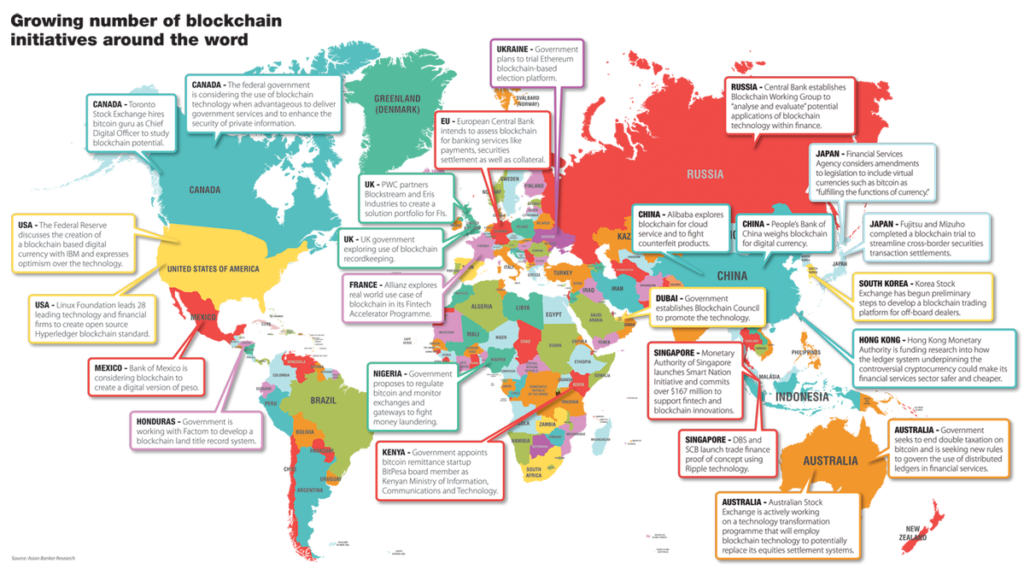 Image source: Asian Banker Research
1. The Republic of Georgia uses the blockchain to modernize its land registry
Property rights and land ownership present huge challenges in many countries. Due to archaic systems, data is often lost or recorded incorrectly. As a result, the official record of who owns what is often rife with mistakes.
In the case of land ownership, mistakes are simply unacceptable. The rightful owner of a plot of land should never be forced to move, or unable to return because the system is broken.
In the Republic of Georgia, this has often been the case. Following the Rose Revolution in 2003, Georgia saw multiple, distinct waves of legislation designed to modernize property rights. What resulted was a fragmented system split down regional and national lines. Worryingly these systems operate independently and seemingly in ignorance of each other's existence.
In 2009 for example, a 47ha plot of land was mistakenly allocated to the government and developed, despite legally belonging to a private citizen. The issue arose because the Public Registry was unable to authenticate the correct landowner, and subsequently handed it over to the government.
This is just one example, of how clerical errors in a broken system can cause severe damage.
To combat the debilitated land registry, the government in Tbilisi has partnered with BitFury to create a secure land registry built on the blockchain. Announced in 2016, the partnership aims to create a permission-based blockchain which allows Georgia's Public Registry to create and sign property deeds.
Interestingly, the blockchain BitFury created is anchored to bitcoin and has so far recorded a staggering 100,000 land titles. In terms of scale, this makes it perhaps the most important blockchain pilot program undertaken by any government so far.
2. Blockchain voting in Switzerland
People have been living in the small city of Zug since 600AD. Despite its long and rich history, the city is not stuck in the past. Instead, Zug has worked hard to attract entrepreneurs and companies from around the world, many of whom are important members of the crypto scene.
With corporation tax set at just 14% and a breathtaking view of the nearby lake, companies have been more than willing to set up HQ there. Crucially, one such organization is the Ethereum Foundation, which was founded by Vitalik Buterin, Mihai Alisie, Anthony Di Iorio, and Charles Hoskinson in 2014.
In the years that followed, more and more pillars of the crypto community have set up base in Zug. The popular exchange platform Shapeshift is a prominent example, along with trading platform Bitcoin Suisse.
It is because of Zug's crypto DNA, that it became the first European city to pilot a blockchain program with huge implications for the democratic process: voting on the blockchain. More specifically, in June of 2018 Zug allowed its inhabitants to participate in a blockchain-based test vote. The purpose of the test was to see if blockchain technology could be used to introduce a more efficient and more secure form of voting.
With the dust finally settled, the test vote seems to have gone according to plan, with Zug's communications Chief Dieter Müller saying: "the premiere was a success." Regardless of how things develop in the city of Zug, this successful experiment is proof that blockchain technology can be used to make voting secure and efficient.
3. Energy data tracking in Chile
For over a decade, Chile has seen strong economic growth thanks primarily to its mining industry. In 2014, 20% of government income came from Copper alone, and Copper related products made up over 45% of national exports.
Clearly, Copper plays a crucial role in the Chilean economy, but unfortunately requires a vast amount of electricity to sustain. According to Sratfor, the mining industry alone consumes over 35% of the nation's electricity.
With plans to ramp up Copper production to over 7 million metric tons per year, the government has been searching for ways to develop an electricity sector up for the challenge.
It's unsurprising that they've stumbled upon blockchain technology. More specifically, the Chilean government has announced plans to launch an Ethereum-based pilot which aims to test data entry and storage in the energy sector.
If successful, this pilot could prove to be a significant step forward for Chile. Not only would this new approach allow for incorruptible data entry in a lean and efficient manner, but it would increase trust with citizens and foreign investors.
4. Venezuela launches its own cryptocurrency
When Hugo Chavez came to power in 1999, Venezuela's future looked bright. More than 60 barrels of oil were being produced per citizen annually, and the price of oil kept going up.
Living in such auspicious times, Chavez spent vast sums of money on national programs designed to lift millions out of poverty. Sadly, he failed to diversify the economy, resulting in a precarious over-reliance on Oil exports.
As the national debt ballooned to $120 billion dollars, the only thing standing between Venezuela and a national catastrophe was a strong Oil price. When the great Oil Crash happened in 2014, the price of a barrel of Oil was slashed from $125 to $70. Consequently, the nation now run by Nicolas Maduro, went into a severe tailspin.
More specifically, the end of the Oil bonanza drained trust in the economy from citizens and foreign investors. As a result, the Bolivar reached unprecedented levels of hyperinflation, with the IMF predicting another 1 million (!!!) percent increase in 2018.
Foreign investment is needed to combat the collapse of the economy, but the mountain of national debt disqualifies Venezuela from most traditional lenders. Instead, Maduro's government has turned to crypto, launching the first sovereign cryptocurrency – the Petro.
Widely thought to be nothing short of a scam, the Petro is pegged to a national oil company in an effort to engender trust among investors. The ploy seems to be working, with early reports suggesting that $735 million was raised on the first day of the ICO.
The legitimacy of the Petro is for others to decipher, but it's worth noting that this is an unconventional cryptocurrency, if it is one at all. For one thing, crypto is typically decentralized. In fact decentralization is a key feature, but the Petro is a centralized, hierarchically controlled asset.
5. Register your business on the blockchain in Delaware
It's gone largely under the radar, but Delaware is one of the most innovative states on the block (see what I did there…? OK, I'll stop).
Over the last 20 years Delaware has sculpted itself into an attractive destination for businesses. Six out of ten Fortune 500 companies are legally headquartered here, and so are over 1 million small businesses.
That being said, corporate transactions are still head-scratchingly inefficient. According to GCN, the Department of State earns $1.3 billion a year processing business transactions. Additionally, businesses often face strict and expensive regulatory issues, which rely on expensive notaries and contracts.
In order to find a solution, Delaware approached IBM to create a proof of concept blockchain, which would suit the requirements of the state. More specifically, IBM was awarded the contract after proposing a distributed ledger based on its Hyperledger framework.
Then, in May 2018, the Delaware House passed legislation that allows business to register and trade on the blockchain. Furthermore, in October 2018 we will see Delaware pilot smart contracts on the blockchain, designed to help track stocks and collateral in real time.
Conclusion
It's encouraging to see so many national and regional governments piloting blockchain projects. In many instances, these have gone far beyond pilots, providing a valuable service to thousands of people.
It's still early, but blockchain will "set the course for a long time to come."