The cryptocurrency community in Berlin is tight-knit. There are a ton of great companies here, and when one suffers a setback the whole community is affected. It came as a shock to hear that one of Berlin's most promising blockchain startups was temporarily suspending operations: Bitwala.
Looks like all Bitcoin visa debit cards have been shut down on @bitwala @cryptopay & @xapo. Hope I dont have to open a bank account again. pic.twitter.com/1Lfpjk2LXs

— RideTheLightning⚡️ (@MediumSqueeze) January 5, 2018
On January 12th, 2018 Bitwala, Germany's best bitcoin debit card provider, was forced to suspend operations.
And Bitwala wasn't alone. The entire crypto card ecosystem was essentially shut down overnight.
The reason?
Visa terminated their agreement with Wavecrest, the service provider which had supplied the cards to platforms like Bitwala, BitPay and CryptoPay.
This was terrible news not just for cardholders but for the cryptocurrency world as a whole. The ability to pay anywhere using a physical debit card was a huge victory for the cryptocurrency community. With the collapse of Wavecrest, that milestone now threatened to wither and die.
As is so often the case, radical change in an industry over-reliant on one platform proved to be positive rather than negative. Competent startups like Bitwala managed to pivot, and others managed to find new service providers and grow with an even stronger foundation.
Building on this new and improved foundation, four bitcoin debit cards have emerged as industry heavy-weights. Their fee structure, ease of use, internationality and sleek software make them a joy to use.
Here are the four best bitcoin debit cards in 2019.
The Best Bitcoin Debit Cards of 2019
Revolut
Wirex
CryptoPay
BitPay
Card cost (one time)
$8.99
Free
$15
Free
Mandatory monthly cost
$1.50
$1
Free withdrawals
Up to $200
Withdrawal fee
2% once limit is reached
ATM (in Europe): $2.50
ATM (outside of Europe): $3.50
Domestic ATM: $2.50
International ATM: $3.50
Domestic ATM: $2.00
International ATM: $3.00
Daily withdrawal limit
$250
$2,000
$3,000
Premium available
Available globally
Yes (Apart from a few countries)
Yes (Features may vary)
No (UK, Europe, Russia and Singapore)
No (US only)
Number of cryptocurrencies
5
5
4
1
Number of fiat currencies
>140
3
3
1
Website
Link
Link
Link
Link
Data last updated on February 24, 2019.
1. Revolut – your digital banking alternative
The best bitcoin debit card on the market is provided by Revolut. This might come as a surprise to some of you, considering Revolut is not thought of as a crypto company.
Since December 2017, Revolut has allowed cardholders to exchange, withdraw and pay with both bitcoin and ethereum.
Update (Feb 24, 2019): Revolut now allows users to store: BTC, BCH, ETH, LTC, and XRP.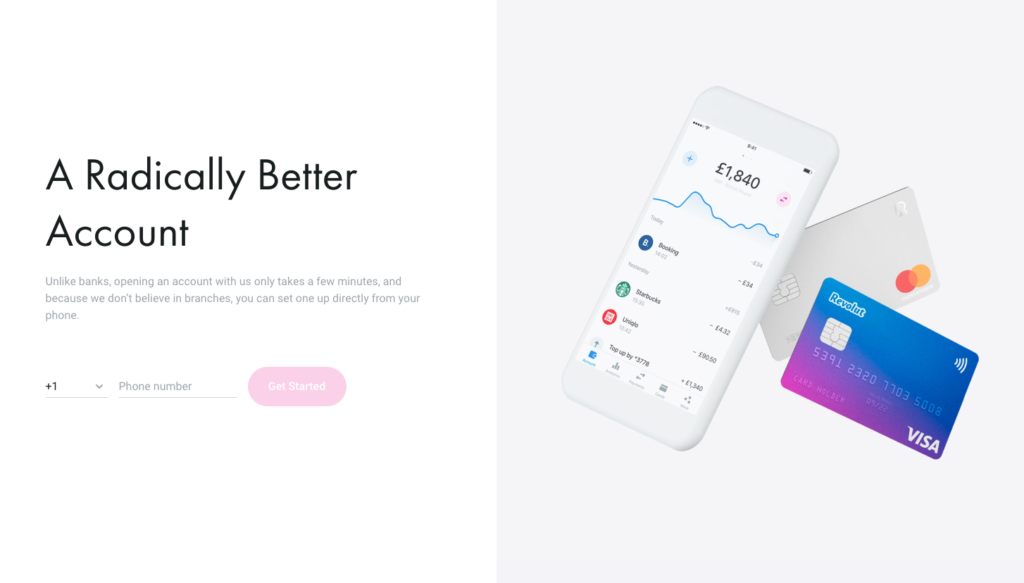 If you've ever used the Revolut App you will have been impressed with its gorgeous design and sleek functionality. You can top up your account instantly using a credit card, and exchange into bitcoin just as quickly. Up to $200 a month can then be withdrawn for free anywhere in the world. Once that threshold is reached, Revolut applies a 2% withdrawal fee from ATMs anywhere in the world. If you are unhappy with the 2% fee, you can upgrade to either the Premium or Metal pricing plan. These increase the free withdrawal limit to $400 and $600 respectively.
These pricing plans are worth diving into in more detail.
For the Premium plan you can expect to pay $8.99 a month or $92 per year. For the money, you get free card delivery (usually $4.99) plus free virtual card issuance, and, of course, the increased monthly withdrawal limit. Depending on you use the card this represents good value for money.
The Metal plan is also worth checking out, because it offers 1% cashback on all your cryptocurrency purchases outside of Europe. Cashback on transactions within Europe is set at 0.1%. Naturally, this isn't going to make you rich, but it's a nice option to have for those of us who are bullish on crypto prices in the long term. Besides cashback, the Metal plan also offers free worldwide ATM withdrawals of up to $600.
Finally, it's easy to see why Revolut and crypto are such a good fit. Revolut has 'borderless cash' baked into its DNA, making bitcoin the perfect accoutrement. For Revolut's 2 million customers the end result is impressive. Instant access to bitcoin and ability to spend it anywhere in the world with zero fees.
This makes Revolut the best bitcoin debit card of 2019.
2. Wirex – Crypto and traditional currency in the palm of your hand
Second on our list is Wirex. Based in London and founded in 2014, Wirex has become one of the industries heavy-weights, thanks to a host of impressive features.
Unlike Revolut, the London based startup allows users to purchase cryptocurrency within the APP. In the case of bitcoin, users can even fund their accounts instantly, providing one of the best purchase experiences available today.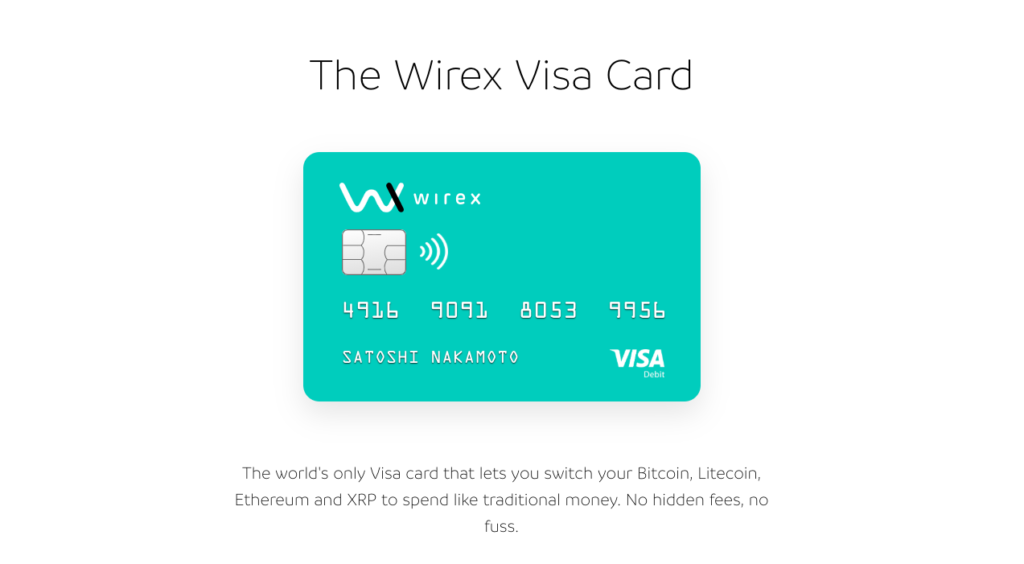 Additionally, ether, bitcoin, Litecoin, Waves and XRP are available for purchase, exchange, and withdrawal both within the APP and on the debit card. This shouldn't give you the impression that only crypto is supported. Instead, users can buy, store and manage USD, EURO and GBP as well, making Wirex attractive to users not affiliated with crypto as well.
Crucially, Wirex also offers impressively low fees to customers. Exchanging is absolutely free, and so are both crypto and fiat transfers. Unlike Revolut, Wirex does not charge for the card delivery either, saving customers $4.99 in comparison.
That being said, Wirex does come in second place for a reason. Some of the few blemishes on this excellent service are the withdrawal limits and fees. More specifically, Wirex charges between $2.50 – $3.50 per withdrawal depending on your location. Additionally, users are constrained by a $250 daily limit on withdrawals. Add to that the monthly account fee of $1.50 as well as the maximum card balance of $10,000 and you get a worthy second place finish behind Revolut.
3. Cryptopay – Bitcoin Wallet & Prepaid Cards
Third on our list is Cryptopay. Founded in 2013 and headquartered in the English city of St. Albans, Cryptopay offers an impressive array of services to its huge customer base. Primary among them are the plastic and virtual bitcoin debit cards. Over 120,000 debit cards have been issued and more than 270,000 transactions are processed each month.
These remarkable statistics are understandable given Cryptopay's ease of use and transparent fee structure. Not only can you use your Cryptopay card to shop online or at any point of sale terminal, but it allows you to easily exchange funds using a FLEX account. FLEX makes it easy to convert cryptocurrencies in a number of fiat currencies.

Similarly to Wirex, Cryptopay offers bitcoin, ether, litecoin and XRP. Interestingly, EURO, USD and GBP are all supported.
Additionally, Cryptopay falls a little short of Revolut and Wirex by charging higher fees. For the physical card, users can expect to pay €15, plus a monthly service fee of €1. On top of that, there is a 1% loading fee, as well as ATM transaction fees ranging between $2.50 and $3.50.
The limits on the Cryptopay debit card depend on whether you are verified or not. This refers to the completion of the platforms KYC requirements, which are relatively painless. Simply sign into your account and upload:
A high quality image of your passport
A high quality selfie of you holding your passport
A proof of residence document issued to your name and the address within the last 3 months
Once you've uploaded these three documents you will become a verified user, which ensures a much better experience with Cryptopay. As an example, your daily ATM withdrawal limit is raised from €400 per day to €2,000, and the number of permitted ATM withdrawals increases from 2 to 5 per day.
4. BitPay – Load dollars using your bitcoin wallet, spend anywhere
Fourth on our list is BitPay. Compared to the other bitcoin debit cards provided here, Bitpay puts a much stronger emphasis on the US market. This is in part because the company is based in Atlanta, but also because CEO Steven Pair identified the huge potential for bitcoin in the US early on. After founding the company in 2011, BitPay grew quickly aiming to become the foremost bitcoin payment service provider in the world.
In May 2016, BitPay launched its debit card which was the first bitcoin debit card available to users in all 50 US states. Encouragingly, Bitpay not only lists all of its fees, but even instructs users on how to minimize them.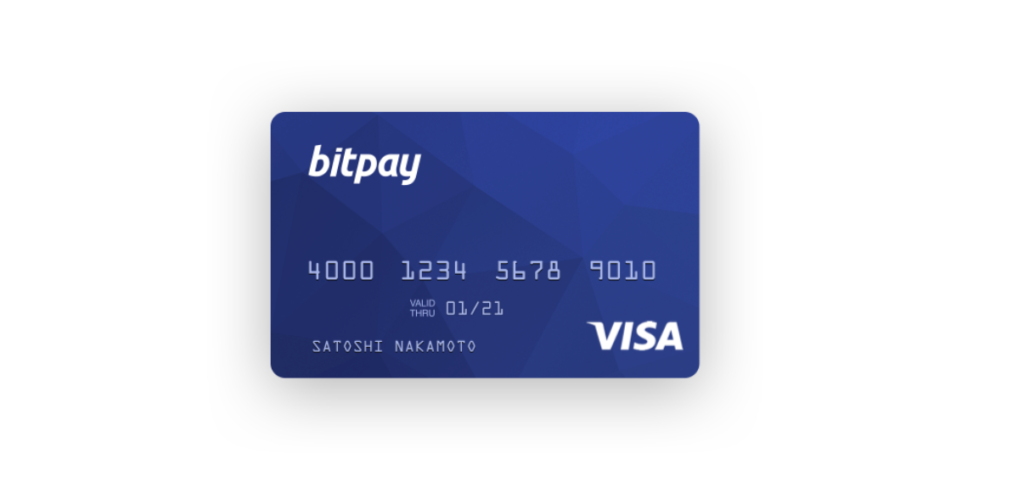 This kind of customer-centric approach goes a long way, especially when coupled with BitPay's intuitive mobile APP. Add to that, the ability to spend your bitcoin anywhere that accepts Visa, and you can see why BitPay made it onto our list.
That being said, the flaws are more glaring here than with the cards mentioned previously. BitPay, for example, has just canceled all European card holders, restricting the service almost completely to the US. Europe has plenty of alternatives, so this is not unsurprising, but the APP lacks quite a bit of functionality compared to the other cards listed.
For one thing, it is not possible to buy bitcoin in the mobile APP. Instead, you need to fund your account via another BTC wallet. Additionally, it is not possible to hold, manage or withdraw any other currency. As a result, BitPay's service is far less comprehensive than that of Revolut or Wirex, which can hold multiple crypto and fiat currencies.
However, BitPay is a great service for US residents on the lookout for a bitcoin debit card.
Conclusion
Despite the major set back experienced in January 2018 by the demise of Wavecrest, the bitcoin debit card ecosystem has recovered. Not only that, but it has reached heights it had never known before.
The introduction of Revolut has significantly raised the bar for cryptocurrency service providers around the world. This will prove to be vital, as the ease with which cryptocurrency can be spent will play a crucial role in its long term success.
I say this because debit cards are becoming an ever more important part of our financial lives. According to a study conducted by the Federal Reserve Bank of San Francisco, consumers use debit cards for 27% of all transactions, second only to cash. As a result, it is vital that bitcoin and other cryptocurrencies can be spent using physical cards anywhere in the world.
Luckily, we have 4 excellent options.